Hampshire Ductwork Services Limited – Ductwork Installation
Hampshire Ductwork Services Limited offers a fully comprehensive ductwork service including installation and modifications. We have a highly trained, fully qualified team of installers who have extensive experience within the industry. We ensure all our ductwork projects are carried out to the highest possible standards.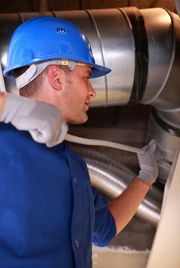 Services Offered by Our Ductwork Installers
We provide a fully comprehensive ductwork installation service including heating and ventilation, waste extraction, dust and fume extraction, commercial kitchen canopies and ductwork. We are able to supply and install almost any profile of ductwork in almost any material, dependent on the requirements of the project.
In addition, we can also include for the supply and installation of ancillary equipment including fans, air handling units, silencers, associated steelwork and supports, heater batteries, grilles and also install insulation to the ductwork where required. We can work from clients drawings or, alternatively, can prepare our own schematics and working drawings if required.
Start Your Enquiry Here
You can start your enquiry straight away by filling in the form below.